Jet Towel Smart:
the compact design option
The Jet Towel Smart comes into its own wherever hand-drying aesthetics, convenience and hygiene need to be fitted into a compact space. As it operates without a collection tray for drip water, it is especially ideal for places with a high footfall with regular cleaning, like fast food restaurants, exhibition halls or sports venues. Designed as an extremely compact, wall-mounted unit, it embodies all the benefits of a Jet Towel – packaged in a body that blends seamlessly into every environment.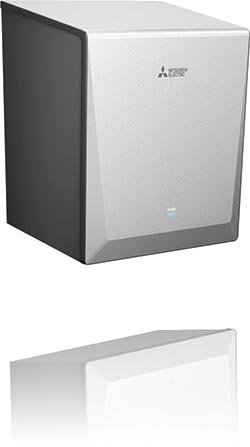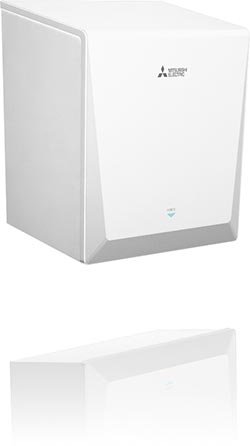 Pioneering design
With its contemporary linear design the Jet Towel Smart blends perfectly with every architectural style. Its compact dimensions ensure that it can also be used where space is at a premium. The angled surfaces on the Jet Towel Smart prevent it being used as a shelf area, ensuring that it looks smart in everyday use.
Durable and robust
Specific emphasis was placed on durability in the development of the Jet Towel Smart: its robust motor is designed for many years of reliable operation. Its sturdy metal cover and fully concealed switch also help to protect it from vandalism.
Cleaning and hygiene perfectly considered
All surfaces of the Jet Towel Smart have an all-over anti-bacterial coating for lasting and reliable hygiene and can also be cleaned using an alcohol-based agent. The filter is placed conveniently right up against the side of the intake grill, allowing for quick cleaning without any disassembly required.
Even more cost-conscious with the Jet Towel Smart Lite
The Jet Towel Smart Lite is available as a particularly economical alternative. It does not heat the air flow, consuming less energy and thus significantly lowering consumption costs with every use. Its impact-resistant plastic cover is also more economical to produce.

Customized color options
The Jet Towel Smart and the Jet Towel Smart Lite can be customised in the body colour of your choice and can also carry your logo. This provides additional freedom when it comes to interior design and means that the appliances can be seamlessly incorporated into sophisticated interior architectural designs. Please note that there is a minimum order quantity for customised appliances. For further details, please contact a Mitsubishi Electric trade partner or Mitsubishi Electric directly.
Jet Towel Smart as standard in silver and white
(Jet Towel Smart Lite as standard available in white)