Jet Towel Slim:
a breath of fresh air in every washroom
Efficient, hygienic and comfortable at the same time. The Jet Towel Slim literally is the ultimate well thought-out, innovative hand drying solution in all respects. It ensures that washrooms remain permanently clean and tidy and, thanks to its sophisticated appearance, lends itself perfectly to use in high-end premises.
Perfect ergonomics
The drying area has generously sized openings on both sides, so that hands can be inserted from the side into the drying zone at a comfortable angle. When hands are drawn out of the unit, moisture is reliably stroked off them and collected.
Easy to clean
The open sides of the unit permit fast and simple cleaning. The drainage area is designed in one piece without joints, thereby ensuring that no dirt can collect. The drain is designed without the need for the usual pipes, as it can simply be wiped clean by removing the side panel.
Hygienic design
All surfaces are anti-bacterial. In addition, the entire body can be cleaned with alcohol-based disinfectant. Serious attention was also paid to the supply of clean air: the suction opening is positioned so that no drip water and no air from the immediate vicinity of the hands can enter the air channel.

Dry hands step by step
Repeat steps 1–4 until your hands are as dry as you need them to be.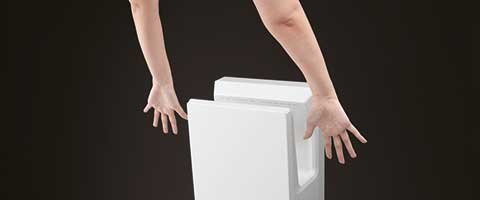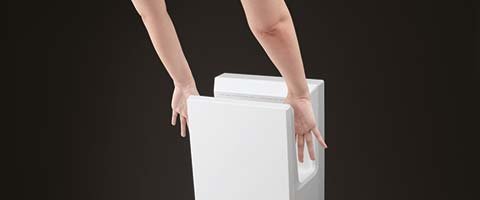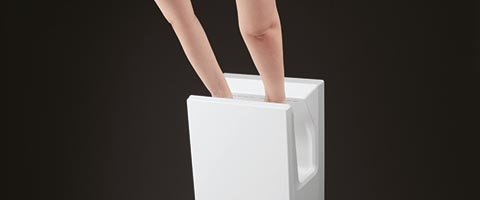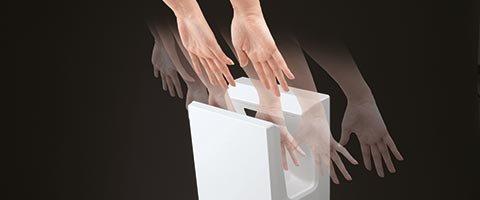 Wir verwenden den Dienst eines Drittanbieters, um Videoinhalte einzubetten und zur Verfügung zu stellen. Per Klick auf Akzeptieren willigen Sie in die Datenverarbeitung durch YouTube gemäß unserer Consent Management Platform ein.
Extremely durable drive
Unlike other electric hand dryers, the Jet Towel has a brushless DC motor, which is designed for extreme durability. It will deliver wear-free, efficient operation for many years to come.
Powerful and fast
The Jet Towel generates a particularly low-turbulence air flow, thanks to innovative, wave-shaped jet air nozzles. It produces an excellent concentrated drying effect, at the same time reducing noise.
No-touch start-stop operation
The Jet Towel is automatically switched on and off when hands are inserted into and removed from the appliance by sensors in the upper and lower part of the drying area. The arrangement of the sensors ensures that children's hands, as well as the hands of people unable to reach far into the unit, are also reliably detected.